An earlier version of this Insight incorrectly mentioned Denmark in the table below, instead of Austria. This has now been corrected. 
Abu Bakr al Baghdadi was killed in a US raid on 29 October 2019 but about a month and a half before his death, he had released a speech titled "And Say: Act!" after six months of absence. In this speech, he referenced the "Battle of Attrition" and celebrated Islamic State's (IS) global presence by naming various wilayat: Syria and Iraq, Khorasan, Yemen, Somalia, West Africa, Central Africa, East Asia, and Tunisia. He included an overview of IS's accomplishments and assured supporters that its "soldiers" continued the fight undeterred. He also addressed the camps; specifically mentioning Muslim women and asking "how can a Muslim accept to live while Muslim women are suffering in the displacement camps and the prisons of humiliation…" The George Washington Program on Extremism highlighted three dominant themes from the speech: rally supporters and prove IS is still a leader in the global Salafi-jihadist movement, encourage supporters to continue their commitment despite losses, and the presence of a shift in its organisational structure.
Preceding and following the release of this speech, online supporters began circulating images of hand-written notes announcing a renewal of bay'ah (in Islamic tradition, an oath of allegiance to one's leader) to Baghdadi, advertising the upcoming Al Furqan Media Foundation release, or a message that included both of these elements. Numerous supporters and channels mentioned the country from where these notes originated in order to highlight global levels of support for IS. Although online supporters have created their own unofficial media outlets, generated pro-IS content at 'grass roots' levels, and amplified official IS narratives, these notes required a more intimate involvement on the part of the sender. The personal dimension of hand-written statements demonstrated a uniquely creative approach in generating excitement surrounding the soon-to-be-released audio while simultaneously solidifying a sense of community during a low point for the organisation.
It is important to contextualise this brief online campaign within the realities of negative developments for IS: the group had suffered a complete territorial loss after the fall of Baghouz in March of 2019; making the display of a global community of supporters all that much more important. In Baghdadi's April 2019 speech, "In the Hospitality of 'Emir al Muminin," he accepted bay'ah from groups in Burkina Faso, Mali, and Sri Lanka and in the video, he leafed through folders labeled with various wilayat including a previously unknown one, Wilayah Turkia. Despite losses on the ground, this speech attempted to exemplify the slogan of baqiya wa tatamadad, and online content needed to parallel this sentiment. This pattern fits Michael Krona's observations that propaganda and narratives promoted in online spaces "mirrored the territorial state." Although IS had lost its territorial holds, the importance of synching online narratives with Baghdadi's speeches remained crucial.
We documented these hand-written bay'ah and announcements as they flooded into pro-IS Telegram chats and channels from 16 September 2019 to 23 September 2019. A total of 175 notes were shared from 50 countries (3 unknown) (see figures 1 and 2, and table 1). Some supporters suspected that channels seeking note submissions were a part of an intel collection effort and discouraged people from submitting posts which may have contributed to an end to the campaign. A majority of the notes were hand-written and most of them contained either their location or a picture of the note with a distinct monument in the foreground, i.e. Big Ben in London, or the Ferris Wheel (Ballongyngen) in Copenhagen. Some notes included backdrops with bullets, knives, guns and/or IS flags as decor.
Figure 1: Geographical Distribution of Allegiance Notes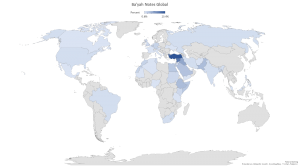 Figure 2: Bar Graph of Allegiance Note Counts in Top 15 Countries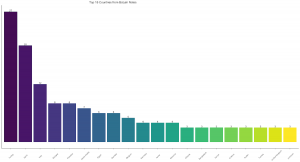 As shown in figure 3, the majority of notes originated from the Middle East and North Africa Region (55%). Turkey (15.5%) followed by Syria, Iraq, Ethiopia and Pakistan compose the top five countries of origin with Sub Saharan Africa (13%) and Western Europe (10%) as the top regions. Outlier examples included notes from the Americas (2%), Algeria, Aruba, Brazil and Mexico. The regional distribution of notes is not surprising in the wake of Baghdadi declaring Turkey as a new wilaya, the organisation's loss of territory in Syria and Iraq, and increased operations in South Asia. Nonetheless, the copious amounts of notes originating from outside of IS's self-declared wilayat and previously occupied territories demonstrate the importance of examining IS's virtual sovereignty on the Internet.
Figure 3: A Pie Chart to Show Regional Distribution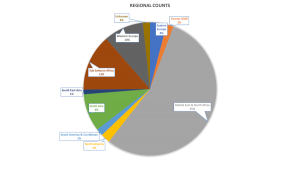 More recently, a handful of handwritten notes mirroring those from September 2019 preceded the latest al Furqan release, but a trend did not develop. However one channel, dedicated to posting bay'ah to Abu Ibrahim al-Hashemi from various unofficial media producers, did briefly appear. The short-lived period of online IS supporters' late September 2019 allegiance/al Furqan announcement posts has not been replicated but it stands as an example of a unique propaganda effort that, to some degree, required these faceless online usernames to merge components of their actual lives with their virtual presence. The period of this personalised allegiance campaign serves as a snapshot of IS's online ecosystem where supporters reinforce the organisation's virtual sovereignty, display an ability to sustain their online reality despite massive territorial losses and create grassroots campaigns from a decentralised virtual presence.
Table 1: Allegiance Note Distribution Across Countries and Regions
| | | | |
| --- | --- | --- | --- |
| Country | Region | Percent | Count |
| Turkey | Middle East & North Africa | 15.4% | 27 |
| Syria | Middle East & North Africa | 11.4% | 20 |
| Iraq | Middle East & North Africa | 6.9% | 12 |
| Pakistan | South Asia | 4.6% | 8 |
| Ethiopia | East Africa | 4.6% | 8 |
| Saudi Arabia | Middle East & North Africa | 4.0% | 7 |
| Egypt | Middle East & North Africa | 3.4% | 6 |
| Somalia | Sub Saharan Africa | 3.4% | 6 |
| Belgium | Western Europe | 2.9% | 5 |
| Israel | Middle East & North Africa | 2.3% | 4 |
| Morocco | Middle East & North Africa | 2.3% | 4 |
| Germany | Western Europe | 2.3% | 4 |
| Albania | Eastern Europe | 1.7% | 3 |
| Kosovo | Eastern Europe | 1.7% | 3 |
| Tunisia | Middle East & North Africa | 1.7% | 3 |
| Bangladesh | South Asia | 1.7% | 3 |
| Kenya | Sub Saharan Africa | 1.7% | 3 |
| Sudan | Sub Saharan Africa | 1.7% | 3 |
| unknown | Unknown | 1.7% | 3 |
| United Kingdom | Western Europe | 1.7% | 3 |
| Russian Federation | Former USSR | 1.1% | 2 |
| Iran | Middle East & North Africa | 1.1% | 2 |
| Palestine | Middle East & North Africa | 1.1% | 2 |
| United States of America | North America | 1.1% | 2 |
| Brazil | South America & Caribbean | 1.1% | 2 |
| India | South Asia | 1.1% | 2 |
| Maldives | South Asia | 1.1% | 2 |
| South Africa | Sub Saharan Africa | 1.1% | 2 |
| Algeria | Middle East & North Africa | 0.6% | 1 |
| Northern Macedonia | Eastern Europe | 0.6% | 1 |
| Ukraine | Former USSR | 0.6% | 1 |
| Afghanistan | Middle East & North Africa | 0.6% | 1 |
| Jordan | Middle East & North Africa | 0.6% | 1 |
| Kuwait | Middle East & North Africa | 0.6% | 1 |
| Lebanon | Middle East & North Africa | 0.6% | 1 |
| Mauritania | Middle East & North Africa | 0.6% | 1 |
| North Africa | Middle East & North Africa | 0.6% | 1 |
| United Arab Emirates | Middle East & North Africa | 0.6% | 1 |
| Yemen | Middle East & North Africa | 0.6% | 1 |
| Canada | North America | 0.6% | 1 |
| Mexico | North America | 0.6% | 1 |
| Aruba | South America & Caribbean | 0.6% | 1 |
| Sri Lanka | South Asia | 0.6% | 1 |
| Malaysia | South East Asia | 0.6% | 1 |
| Philippines | South East Asia | 0.6% | 1 |
| Nigeria | Sub Saharan Africa | 0.6% | 1 |
| Tanzania | Sub Saharan Africa | 0.6% | 1 |
| Austria | Western Europe | 0.6% | 1 |
| France | Western Europe | 0.6% | 1 |
| Italy | Western Europe | 0.6% | 1 |
| Netherlands | Western Europe | 0.6% | 1 |
| Southern Europe | Western Europe | 0.6% | 1 |
| Total | | | 175 |