The Sahel comprises some of the world's poorest countries. Burkina Faso, Mali, and Niger are undergoing several crises that together represent a major geopolitical dilemma on the African continent. In this context, jihadi groups, including the Group for the Support of Islam and Muslims (commonly referred to by its Arabic acronym JNIM), and Islamic State in the Greater Sahara (ISGS), represent regional affiliates of the global terrorist organisations Al-Qaeda and Islamic State. Radical groups driving insurgencies that are growing and expanding across the region pose a key strategic threat. Through asymmetric warfare and their media-savvy capabilities, jihadis are outmatching the weak states facing them on the battlefield and in strategic communications. Militants often transform defeats into propaganda victories, while authorities fail to deliver an adequate counternarrative and do not fully exploit their tactical gains.
The modern guerrillas that make up these jihadi groups in the age of the Internet leverage technology to agitate and indoctrinate as part of their religio-politico-military struggle. Across a vast territory, half the size of Europe, with a diverse typography of dunes, shrublands, mountains, and thick forests, jihadis employ traditional guerrilla tactics combined with modern weapons including remote-controlled rocket launchers and improvised explosive devices. Drone footage and GoPro cameras are utilised to magnify landscapes and military operations, amplifying their online propaganda and mobilisation.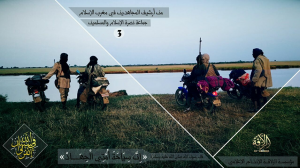 Photograph, part of a JNIM online mobilisation and recruitment campaign "Go forth in the cause of Allah" captioned "The Prophet said peace be upon him: The tourism of my people is striving" [..in the path of Allah, the Exalted], Al-Zallaqa Media Foundation, 2 January 2018.
This brief provides an insight into the Sahelian propaganda landscape, which has unique features and characteristics, and the ecosystem of the two main jihadi groups, JNIM and ISGS, which share common roots within the network of Al-Qaeda in the Islamic Maghreb (AQIM). A historical overview provides context that helps explain the differing media capabilities of the two entities.
ISGS emerged in May 2015 as a splinter group from the Al-Qaeda-affiliated Al-Mourabitoun when Western Saharan jihadi Adnan Abu Walid al-Sahrawi, along with a group of loyal men, pledged allegiance to Abu Bakr al-Baghdadi and Islamic State. The group was not recognised by Islamic State Central until October 2016 in a video produced by the terrorist organisation's newswire, Amaq News Agency. Following the 2016 Amaq video release, Islamic State Central did not communicate on the activities of its Sahelian affiliate. Instead, ISGS continued to rely on its own rudimentary media infrastructure. Claims of attacks were made primarily via Mauritanian news outlets including Alakhbar and l'Agence Nouakchott d'Informations (ANI), but also Agence France Presse (AFP). Self-produced propaganda videos were diffused locally, though often with a delay, ISGS being hampered by a lack of Internet access, as it evolved in remote border areas with weak telecommunications signals, or even the complete absence of a network.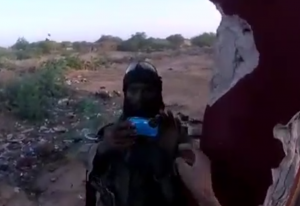 Screen capture from an ISGS low-quality propaganda video, showing an ISGS media operative with a compact digital camera in Ayorou, Tillaberi Region, Niger, 21 October 2017.
JNIM was formed in March 2017 as a merger between AQIM's Sahara Emirate, Al-Mourabitoun, the local jihadi group Ansar Dine, and its central Malian contingent Katiba Macina. Iyad Ag Ghaly, the Tuareg leader of Ansar Dine, was designated the emir of the conglomerate and pledged his allegiance to AQIM's Abdelmalek Droukdel, al-Qaeda's Ayman al-Zawahiri, and Afghan Taliban leader, Hibatullah Akhundzada. The declaration of JNIM also gave birth to Al-Zallaqa Media Foundation, a centralised media wing for the four constituent groups, and the Burkinabe jihadi group Ansaroul Islam. Under the aegis of AQIM, JNIM built a robust media machinery grounded in more than two decades of experience in militant tradecraft and propaganda production.
The Sahelian propaganda ecosystem could be divided into two spheres: the global and the local. The global sphere includes the propaganda intended for the international community broadly, and consists primarily of 'official' public messaging in the form of claims of responsibility for military operations, videos, and audio-visual statements. Media products are communicated in world languages: Arabic, French, and English. The local sphere encompasses propaganda for local consumption and is disseminated in local languages: Hassaniya Arabic, Tamashek (or Tuareg language), Fulfulde (or Fulani language), Bambara, Songhai, Zarma, and other local languages and dialects. Locally-oriented items often come out as low-quality videos and audio diffused via closed local WhatsApp groups, including community-focused platforms, and as printed statements handed out to residents. The linguistic barriers and limited accessibility to locally-distributed items represents a gap that should not be neglected in terms of our understanding of these groups.
ISGS was for approximately two-and-half years confined to the local sphere. However, by March 2019, ISGS had reconnected to Islamic State Central and became integrated into the organisational infrastructure as a distinct subgroup under the brand of the Islamic State West Africa Province (ISWAP). The formal incorporation boosted ISGS's profile, triggering greater ambitions, and the group began to challenge strongly the JNIM hegemony, causing the historically amicable relationship between ISGS and JNIM to descend into open warfare and an ongoing online battle.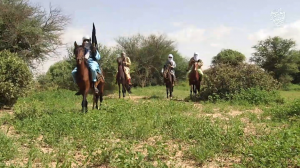 Screen capture from the first official full-length high-quality video by Islamic State dedicated to ISGS entitled "Then It Will Be for Them A [Source Of] Regret", 10 January 2020.
JNIM, unlike ISGS, inherited media capabilities from its constituent groups and could from the outset strategise its propaganda output. The group received extensive support from AQIM in the production of high-quality videos. Narrative, visual elements, and technical components in audio-visual productions indicated an overlap between AQIM's Al-Andalus and JNIM's Al-Zallaqa, to the extent that AQIM exerted significant influence over JNIM's media activities. However, losses of key media operatives within the regional network have been coupled with a gradual decline in, and contraction of, JNIM's media activities. For instance, the last high-quality video was released in February 2019, when JNIM's Macina Region emir, Amadou Kouffa, appeared in an interview to dispel French claims of his death. By July 2020, JNIM had begun outsourcing media tasks to the AQ-linked Thabat News Agency, a propaganda outlet reporting on the activities of Al-Qaeda's affiliates across the globe. The Thabat News Agency is a quasi-imitation of Islamic State's Nashir News Agency, functioning as a sort of Al-Qaeda news aggregator. Nevertheless, the Thabat News Agency is not clued-in to local circumstances, as shown by its inaccurate use of visual material showing rival ISGS fighters and Nigerian pirates from the Niger Delta Avengers in publications related to JNIM, or the recycling of local social-media content into its graphic displays.
There are notable differences in the propaganda dissemination of JNIM and ISGS. As a regional Al-Qaeda-affiliate, JNIM operates autonomously and its media wing, Al-Zallaqa, functions on an ad-hoc basis by temporarily creating or maintaining closed Telegram channels to diffuse a media product across a designated network, which in turn disseminates the item to supporters and subscribers. As soon as the item surfaces in the open-source domain, it becomes available to the public. ISGS's procedure is the reverse to that of JNIM. By being subordinated to Islamic State's centralised media apparatus, its propaganda diffusion relies on communications either directly with Islamic State Central or with the media office of the Nigeria/Lake Chad-based Islamic State West Africa Province (ISWAP). What Al-Qaeda and Islamic State do have in common is that they evolve, adapt, and diversify depending on circumstances. For instance, a November 2019 Europol crackdown on the messaging application Telegram spurred Islamic State and Al-Qaeda-aligned groups to temporarily migrate and test alternative platforms.
Héni Nsaibia is a senior researcher at the Armed Conflict Location and Event Data Project (ACLED). He is also the founder of Menastream, a risk consultancy providing intelligence analysis.
Rida Lyammouri is a senior fellow at the Policy Center for the New South (PCNS).